Warning
: include(/home/www/htdocs/vso-software.fr/www/language/coupon.php) [
function.include
]: failed to open stream: No such file or directory in
/home/www/htdocs/vso-software.fr/www/press_release/photoDVD/V1.php
on line
161
Warning
: include() [
function.include
]: Failed opening '/home/www/htdocs/vso-software.fr/www/language/coupon.php' for inclusion (include_path='.:/usr/lib/php') in
/home/www/htdocs/vso-software.fr/www/press_release/photoDVD/V1.php
on line
161
Current Poll
Have you upgraded your licence to Lifetime status ?
VSO PhotoDVD - by VSO-Software

Toulouse, France, December 23, 2004

VSO PhotoDVD creates animated DVD movies from your photos!

Today, VSO-Software – the well-known CD and DVD software maker (CopyToDVD and BlindWrite) - launches its new PhotoDVD product. Just in time for Christmas, this new product, definitely focused on customers' needs, allows you to create exciting and personal gifts from your favourite personal snaps.

"It's exactly what we want to offer our customers. PhotoDVD is designed to combine a high quality result to a comprehensive and easy interface. We are proud of this product that creates a new brand focused on video and pictures management", said Fabrice Barroy-Meuwissen, VSO's marketing director.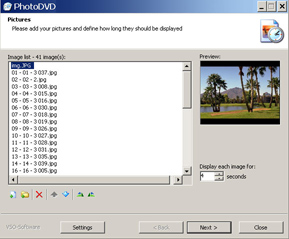 With a few clicks, PhotoDVD backs up and converts your digital photographs to a DVD to view them on your living-room player. The new animation engine analyses the picture's size and orientation to create automatically a movie with cool fade, zoom, and pan effects. Although the animation engine is both powerful and fast, a recent computer is better to enjoy the simplicity of this product, really designed for busy and demanding people.


"We have created easy-to-use software based on users' comments and we have spent time collecting valuable feedback for this project to fit their needs. What people want, and, what we will introduce in the next version, is a lot of innovative options such as DVD subtitles, multiple audio tracks and some fine tuning for animations", outlines Jacques Vignoles, VSO's lead developer.

VSO-Software has decided to give up the usual (S)VCD format to use features only available in the DVD format. The interface is a wizard which lets you select your pictures, pick your background music, set some options and back it up to a blank DVD media using the reliable VSO burn engine. It makes a very interesting slideshow generator of PhotoDVD for Christmas. A personal home-made gift always pleases family members!
"It is quite difficult to describe how good and different the resulting experience is compared to the other products available in the market. That's the reason why we are offering a free 100-pictures trial on our web site", adds Mandie Falguieres in charge of VSO communication.
Background music can be easily integrated into your PhotoDVD for your guaranteed pleasure!



Some features of VSO PhotoDVD
Import your photos file-by-file or whole folder
Sort, preview and edit the orientation of each picture easily
Support Digital image formats JPG / GIF / BMP / ANI / PCX / EMF / WMF ...
Music in formats MP3 / WMA / OGG / MPC / WAV / APE …
Customizable animation engine with fine tune options
High Quality and fast MPEG2 encoder
Auto create chapters for easy navigation
Full screen (4:3), Wide screen (16:9)
PAL and NTSC compatible
Output to DVD disc +/-(R)W and double layer with award-winning VSO burn engine
Single click option to store original files on DVD media for perfect backup
Multi-lingual support ( English, German, French, Spanish, Portuguese, Chinese, Italian... )

PhotoDVD is concerned about your time. Its value is in its instinctive and automatic execution of your image animations which is perfectly suited for both beginners and advanced users. A photo DVD can store thousands of images on DVD.
Bring your pictures to life…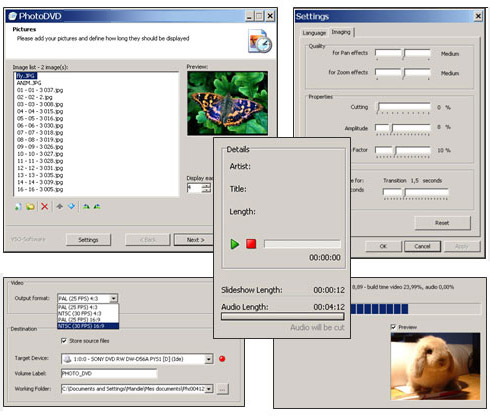 Availibilty
PhotoDVD is available for an introductory price of 19,99 USD or 14.99 EUR with 1 year's free update (minor or major versions). You can now purchase their on their web site: www.vso-software.fr (by credit card, Paypal, check or wire transfer and later in stores in some countries).

A free trial version can be downloaded from their web site http://www.vso-software.fr/download.htm (100 photographs maximum).
About the company
VSO-Software specialises in sophisticated CD and DVD burning software suitable for beginners right through to more experienced users. With partners in Europe, Japan and the US, the French-based software developer provides CD and DVD burning software throughout the world. At present, all their products can be downloaded directly online from www.vso-software.fr with the added advantage of a trial period before purchasing. The company's personable responsive to customers ensures that full support is available for all their products.
VSO-software uses their burning software to 3rd parties such as "321 Studio".
Contact
If you need a full version for review or authorisation to publish a trial version in a magazine or to link to their download section, please contact us on their website http://www.vso-software.fr


Press and business relations contact:
Helene Lamare
Mail : helene.lamare@vso-software.fr
Phone: ++33 (0)6 73 36 72 29
Website : http://www.vso-software.fr

Phone +33 (0)5 34 66 56 23 - Fax: +33 (0)5 34 66 56 24
-- Copyright VSO-Software SARL 2004 --