VSO ConvertXtoDVD - by VSO-Software
Toulouse, France, Feb 1, 2006

Deutsche Version


Version Française

How to watch your PC movies on any DVD player ?
VSO-Software: New ConvertXtoDVD Version 2.0
VSO Software announces a new product ConvertXtoDVD. This product is actually a new version of the well known DivXtoDVD. This version has integrated the requests through VSO surveys and introduces many new major features.

VSO ConvertXtoDVD allows you to convert and then burn your video files that were originally only playable on your PC so that they are now playable on any DVD Player. ConvertXtoDVD handles your everyday digital multimedia life, extending support beyond AVI files, XVid, MPEG 1/2/4, VOB, MOV, and now WMV 3 and HD formats and more.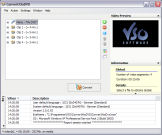 "We clearly underestimated the common usage of WMV formats in our previous version. We were expecting people to use much more exotic formats when in fact they are still using a lot the default software that comes with Windows! With new support of WMV3, the creation of a DVD from files of your digital camera becomes a 1 click task." says Claire Waledisch which manages a part of the technical support in VSO-Software. Once again VSO-Software listens to their users and has implemented their requests.
One of the most exciting features introduced is the option to create DVD Menu automatically from the conversion file list. You can make a personalized menu as well as define how you would like your DVD to be read (AutoStart the movie, loop the videos ). Therefore, ConvertXtoDVD is a must-have for busy people who want to put TV episodes or their personal camcorder movies onto DVDs with excellent quality.
At a glimpse, the interface of ConvertXtoDVD is clear and easy to use with direct access to essentials functions. But once you become familiar with it , you discover many options to customize your project. For example, by adding subtitles

( .SRT or .SUB/IDX ) with a total control of the font and color. To name a few others, files using multiple audio tracks can be tuned and useless audio can be removed to save space and quality. And last but not least the biggest change made to this version (which is not visible to the user) is the new conversion engine. The engine has been rewritten to handle more cases due to the diversity of the source channels. The engine is now faster and you can set a balance between conversion speed and quality. The DVD looks exactly like your original files.
This new version implements a PULL-DOWN option, extremely advantageous when you need to convert videos from PAL to NTSC or NTSC to PAL, which are the 2 TV Standards.

ConvertXtoDVD contains the VSO Burning engine, used by popular 3rd party software too. You can use your favorite media wether it is DVD+R or -R , double-layer or RW family. We encourage you to look at the VSO Database results posted online a few weeks ago. http://www.vso-software.fr/articles/burning-stats/mediastat-best-burner-and-media-brand.php
You would find interesting results about the best DVD drive manufacturers and media.

ConvertXtoDVD can be purchased online for a cost of 35 euros / USD, but the existing users of DivXtoDVD can upgrade to this version free of charge. The program will be available at the beginning of February

Features and Specifications
Supported video formats: DivX, Xvid, MPEG4, MOV, AVI, WMV, WMV HD, DV, and more...

Supported sources : existing files, digital camera, TV / Sat , capture card.
Supported audio formats: AC3, DTS, PCM, OGG, MP3, and more...
Can merge up to 6 hours of material from several movies or episodes.
Handles subtitles files (.SRT .SUB/IDX ) with color and font selection
Video format choice: NTSC, PAL, or automatic and PULL-DOWN
Picture output: Widescreen, Fullscreen, or automatic
Create Automatic chapters or edit your owns
Fast preview mode to check if the source is loaded correctly
Save the DVD structure on hard drive or burn it to a blank DVD
Reliable burn engine integrated (supports all DVD formats)
Customizable interface (themes, dockable windows)
Variable options and settings for advanced users
Control of the conversion speed vs quality
Fast and quality encoder ( typically less than 1 hour for converting 1 movie )
DVD Menu control ( auto-start, loop etc )
DVD Menu edition ( background, fond, color )
Multilingual support (available languages...)
Optimized for Windows 2000 / XP / Vista

Want to know if ConvertXtoDVD will meet your needs, VSO Software offers you a free trial of ConvertXtoDVD downloadable here: http://www.vso-software.fr
About the company

VSO Software is an innovative company located in the south of France (Toulouse). During the last few years, VSO has become popular for their excellent burning engine! VSO Software is dedicated to producing very easy to use software with user friendly interfaces and promissing quality output.

Among the most used VSO products, BlindWrite, CopyToDVD, and the latest on the market DivxToDVD (also available in the latest Roxio suite 7.5 ) are continuously updated and improved. VSO-Software also provides burning engine SDK to be integrated by others companies and customized programming service.
Contact
Press and webmasters are allowed to publish the trial version in their website and cover CD.. Special discount coupons can be created on request, evaluation kit on request.

Claire Waledisch
Email: claire@vso-software.fr
Website: http://www.vso-software.fr
Phone: +33 (0)56 216 02 23
Fax: +33 (0)56 216 05 49